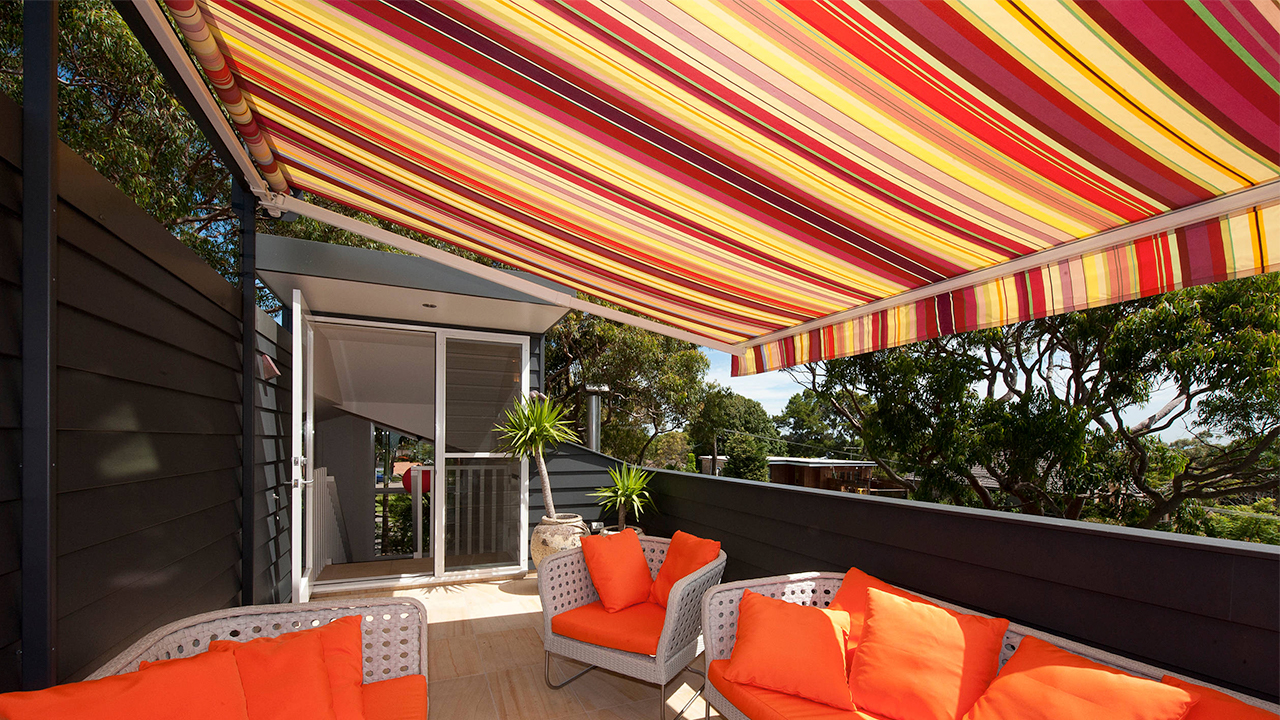 Retractable awnings are useful investments that can improve the quality and usability of outdoor spaces. For commercial and residential properties they can help to increase the appeal of the place by providing calibrated control over the amount of direct sunlight that can penetrate to the space. This also provides an added layer of flexibility with regards on multi-usage of the space at different times of the day.
Instead of building an extra room to extend your property, they provide you with the option of shading your outdoor space completely. Installing retractable awnings brings about significant savings relative to construction works.
With over 20 years of experience in the local awning industry, we provide high quality lateral arm awnings that are sure to suit various preferences and needs. Our products are of superior quality that exude functionals and aesthetics appeal.
Manual and Automatic options
We provide two basic options for our retractable awning products, namely the manual and automatic options. The manual awning uses a crank to extend or retract the fabric while the motorised option does so mechanically via a remote or switch. An ideal set up would be for an awning to have both capabilities – the manual crank-operated one will serve as a backup when the motorised one fails or lacks sufficient power to operate.
Structure and Design
Lateral arm awnings are commonly mounted to the wall of roof of a property, with at least six inches of free space required for operation. A vertical allowance of around seven feet is also recommended if the awning unit it pitched vertically.
An advantage of the awning unit is that it does not require ground support, as the unit's arms will keep the fabric taut without the need for lateral support or standing poles. The torsion bar, made in steel or aluminium, works by absorbing movement and shock that runs through the unit.
Typically, the steel torsion can hold a greater amount of load than aluminium, including holding a wider span of fabric without any center support due to its superior strength to aluminium.
Awning Maintenance
Awnings are generally low maintenance fixtures, but practicing proper awning care and maintenance hep keep your new awning in good working order for a long time to come:
Retractable awnings should be rolled up when stormy conditions are anticipated.
Water or rainwater should never be allowed to pool on the awning. Folding arm awnings are designed to be used as a sun shelter in calm conditions.
No external objects should be attached to, or hung from the awning or fabric.
Powder coated metallic components and profiles of your awning should be cleaned twice a year  by washing it with soap and rinse off.
Lubricate moving components annually with light oil and apply sparingly. Do not apply it on the fabric of the awning as it may stain permanently.
To remove dirt from the fabric, brush dry fabric with a soft brush and remember to never scrub the fabric.
Immediately remove deposits of organic matter (such as soil, grass cuttings, leaf litter, bird droppings, vehicle exhaust), some leaf species can cause stains if wet, remove leaves before rolling up awning.
Do not use strong bleaches such as pool chlorine or any soaps, detergents, solvents or other liquid cleansers to clean the fabric.